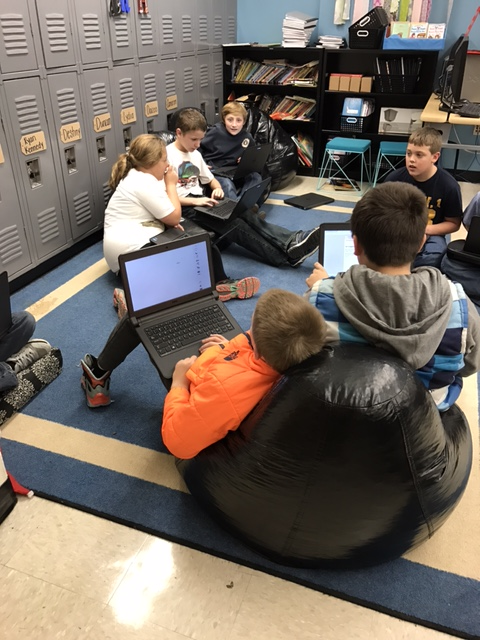 Things look very different from most classrooms when you walk into Mrs. Brianna Kite's fifth grade science room. Rather than the traditional desk and chair combinations, Mrs. Kite's room has plenty of options for every learner. In looking across the classroom, one group has desk cushions and bouncy bands – both proven to improve focus and physical heath in students by allowing movement and fidgeting. Another group has kneeling chairs, allowing students to kneel on a cushioned surface while sitting on a seat that improves posture, focus and movement.
In the back of the room there are desks to allow students to stand and complete work. Standing desks have become popular in many businesses for the added health benefits with movement and blood flow. Students in the middle group are also allowed to sit on exercise balls with bases, which allow for wiggling and bouncing, while improving posture and focus. In another group, students sit on stools that have a rounded base, combining the best of both worlds for a stool and an exercise ball. Up at the front of the room there are floor seats with a table that is lowered to an appropriate level for students who prefer to sit on the floor. For group work though out the classroom there are more types of seating: bean bags, floor cushions, stools, yoga mats, and throw pillows.
On the first day of the new seating, Mrs. Kite had the students sign a contract detailing the appropriate behavior with the seating, and has posted the expectations in the room. Students are allowed to choose their preferred seats, with a rotating first choice option to allow fair access for all students. At the beginning of the school year, Mrs. Kite worked with the special education department due to the diverse needs of the groups of students that she would be teaching. When Mrs. Kite was asked why chose to pursue alternative seating, she stated "Several of my students demonstrated the need for movement and flexibility in the classroom. I wanted to provide them a safe and inviting environment in which they would be encouraged to act upon those needs while achieving their academic goals."
Mrs. Kite and Miss Shelton of the special education department would like to extend a special thanks to the following organizations and individuals: The Chastain Family, The Walmart Community Grant, and the Coordinated Health Department of Bristol Tennessee City Schools. Through your donations, this classroom has become a thriving hub of academic excellence and positive physical health.