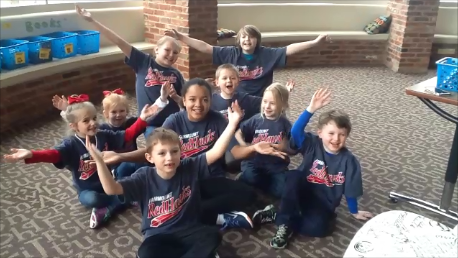 Fairmount Elementary receives recognition as a model school for behavior
Click here to see how Fairmount students feel about Fairmount
The Tennessee Behavior Supports Project (TBSP) recently announced that Fairmount Elementary has been chosen as a Model of Demonstration School for successfully implementing evidence-based behavioral interventions. Each school's exemplar level is based on the Tiered Fidelity Inventory (TFI) and additional documentation provided in the application. Fairmount received silver level. The possible exemplar levels are Platinum, Gold, Silver, and Bronze.
The Tennessee Behavior Supports Project (TBSP) is funded by the Tennessee Department of Education and is charged with supporting schools with developing and sustainably implementing the Response to Instruction and Intervention – Behavior (RTI2-B) framework. TBSP focuses on equipping and educating schools to use evidence-based strategies and interventions when developing their RTI2-B framework.
Fairmount teachers were the driving force in developing the school wide behavior framework. Using a tiered framework, much like RTI for instruction, teachers provide learning opportunities on school expectations. The tiered interventions also target students at risk for more severe behavior and works in conjunction with the school counselor to provide a safety net to prevent negative behaviors. Traditionally, students with behavior issues were sent to in-school-suspension. This type of punishment leads to a loss in academic time, which research has proven to be the least effective way to handle discipline. Fairmount RTI2-B framework recognizes the importance of academic time and found a different option to the traditional in-school suspension. Fairmount utilizes the "B" room, which is staffed by a certified teacher and it is designed to provide a learning opportunity for positive behavior while allowing the student to stay up to pace with academics.
Fairmount is extremely proud of the work the teachers, staff, and students have put into this positive behavior framework. The framework allows the teachers to ensure that all students see their full potential in academics and social and emotional well-being, while emphasizing the Tennessee Department of Education's belief that "all means all".